You can access your personal blog in the "Blog" tab of your social profile. This can also be directly accessed in the header menu link, Create > My Blog while in the social network (collabanthnetwork.org/community/). Along with the blogs that you author, the Blog tab of your social profile is where you can access posts by other members that you've bookmarked for later reading.

To create a new blog post, either navigate to the blog tab of your social profile or simply select Create > New Post in the site header. You can then begin your post.
Creating Your First Post #
If you've ever used medium.com, you will be familiar with our blog post editor. To format text, highlight the text to be formatted to view the formatting options:

To add an image or video to your post, activate your cursor in the editors canvas area and click the add button that appears. That will reveal options to insert an image or video into your post. After adding the media, you can then add a caption, align it with the text, and resize it:

Additional Settings #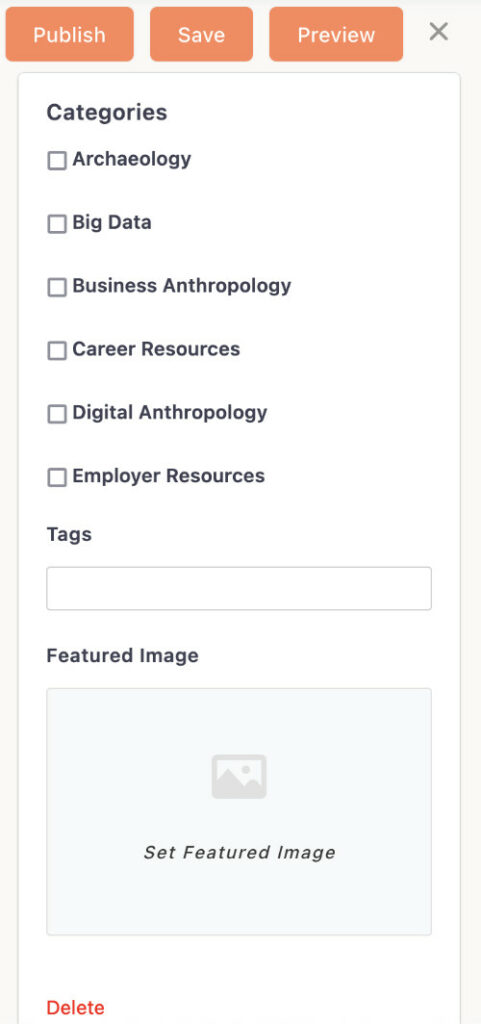 To the left of the preview button, you will notice an editor icon that will reveal additional setting options for your blog post.
This will reveal additional options for assigning categories, tags, and a featured image for your blog post, as well as an option to delete the post.
Blog Categories and Tags #
Member blog posts of the Collaborative Anthropology Network not only appear in your user profile and in the timelines of your connections and followers, but also in the member blogs feed of the CollabAnthnetwork. Group taxonomies are being developed to allow for dynamically loading posts in the activity feed of groups based on shared categories! That is why it is important to assign categories to your posts to make it easier for other users to find your posts and to distribute your posts across the network.
Tags also help readers to locate posts of more specific topics, or topics that don't easily fit into any one particular category.
Featured Images of Blog Posts #
You can add a featured image for your post in the same pop-up where you assign your categories and tags. This will appear in the posts timeline notification and at the top of your published post.
Once you save your post, it will automatically be transported across the Collaborative Anthropology Network to every connection, follower, and members blog feed.